Articles for Good Health
What lies on the following pages are natural health and wellness articles to show you how to improve your health so that you'll stop getting sick.
You'll only find simple, natural methods that are easy to implement.
Good health is achieved through small changes - one step at a time. That is what I mean by approaching wellness. We all can improve, no matter where we are on our journey.

If you think that healthy people are just lucky enough to avoid being exposed to the germs that make us sick, think again.
Maybe you think they are fanatics about washing their hands, or they carry around those ever-popular hand sanitizers. I happen to know people like this, and they usually end up getting sick anyway...
The fact is that healthy people aren't just "lucky." They aren't "cleaner" than the rest of us. Healthy people all have something in common - a strong immune system. That's it. And it's easy to achieve. Ways to achieve better health and wellness ARE simpler than you think.
Studies have shown again and again that healthy people do indeed have disease-causing organisms in their systems, even though they do not get ill.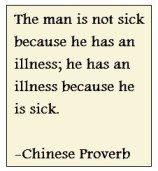 It's true. Those of us with strong immune system health do not need to avoid germs, because we know that our bodies are capable of destroying them before they make us sick.
It's how the immune system is supposed to work.