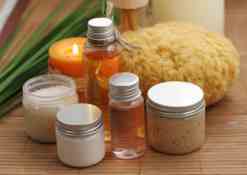 But there is a lot you need to know before you search out these products, especially since manufacturers often use misleading tactics and claims.
But first, think about this...
The average person uses over 100 different ingredients on their body every day.
In many cases these ingredients are synthetic chemicals that overwhelm our natural body detox pathways and disrupt its delicate hormone balance - leaving it weakened and vulnerable to germs and disease.
But are these chemicals really that dangerous?
If you are like most people, you believe that the personal products you use every day have been tested for safety.
Unfortunately, that is generally not the case.
The FDA's Office of Cosmetics and Colors has a very limited role in policing the manufacturers of body care products.
So much so that over 90% of the ingredients used in every day cosmetics (like shampoo, deodorant, toothpaste, perfumes, fingernail polish, moisturizers, makeup, etc.) have never been tested for safety by any publicly accountable organization.
The FDA states plainly on their website that it relies on the manufacturers themselves to test their products for safety before marketing. The FDA also expects them to properly label their products.
Can we really trust the companies that are selling these products? The short answer is no. Not when they have added ingredients that are known to cause cancer, organ damage, birth defects, hormone imbalance (i.e. endocrine disruption), allergic reactions, chronic fatigue, and more.
We've all seen how devastating it can be when companies are allowed to regulate themselves...
So don't trust these cosmetic companies to have your best interest in mind. Not even the ones that claim to make all natural or organic body care products.
So how can you protect yourself and your family?
The good news is that it's not that hard once you know what to look for. So let's look at how you can choose products that will not only be safe, but also healthy and immune boosting. These products are also much better for the environment.
So, simply, products that you can feel really good about using.
Safe Cosmetics - More information on how the FDA is letting us down.
Organic body products - truly organic cosmetics are difficult to find. Knowing how some manufacturers mislead you will make sure you're not wasting money on cheap, synthetic products labeled "organic."
Organic mineral makeup - Look your best without sacrificing your good health - I LOVE this makeup!
Non-toxic cosmetics - the safest, most natural and organic body care products that are also incredibly effective. These are the products I use myself.
Organic Hair Care Products - organic hair care doesn't have to be expensive
All Natural Hair Care - Inexpensive common ingredients can give you beautiful hair.
My recipes for baking soda shampoo and a vinegar hair rinse.
Personal care ingredients – a list of common ingredients to avoid and their health effects
Antibacterial soap – it doesn't keep you well, plus the main ingredient is toxic to people, animals, and the environment.


Have a question about natural body care?
Please share your questions below and I will answer them to the best of my ability. Help me give you the best answers possible by sharing as many details as you can.

You are free to comment on what others have written too. Just always keep it respectful (only positive/helpful comments will be published).

What Other Visitors Have Said
Click below to see questions from other visitors to this page...