No More Colds & Flu:
An All Natural Cold and Flu Remedy
that Works!
Let's face it - most natural cold and flu remedies are ineffective or unreliable. And the vast majority do not have any solid evidence behind them.
But not this remedy. How can I say that?
I haven't had a cold or flu since 1999. Yes, that's right - well over a decade free of colds and flu, naturally.
YOU can do it too. It's not hard.
And I do NOT get flu shots every year. Actually, I have never ever had a flu shot (and I never will).
I created this ebook for those that want a safe, natural way to not only provide real relief from cold and flu symptoms, but to prevent any future infections.
"Thanks for providing us all with this unique and useful ebook. You have convinced me to change my ways and I am in the process of following your recommendations exactly.
In the past I have been remarkably lucky with almost no cold and flu problems, but since retirement I seem to get hit on a yearly basis with bad colds that drag on for weeks. Our government provides a yearly flu jab for seniors, but in spite of that I got it very bad three years ago.
I feel a fresh sense of optimism after reading your ebook and I'm convinced that colds and flu will be things of the past in our home from now on."
- Bill B., Darwin NT Australia
This remedy is backed by many years of clinical findings. They are decades-old studies - much of which were done before the drug companies had the strangle-hold that they have on us now.
These studies were primarily performed by physicians that believed nutritional deficiencies played a large role with these kinds of illnesses.
These doctors were not the quacks that mainstream medicine would like you to believe they were. These doctors received many awards and honors, including the highly-coveted nobel prize.
I have used their knowledge to protect myself from the common cold and the flu. It is simple to do and it WORKS!
After all, I used to get sick like everyone else.
I used to panic when someone around me was sick because there was a good chance I'd get whatever that person was spreading around.
Not any more though. Not for well over a decade!
"I just read your ebook and found it very informative and good reading. It seems to be in two parts with part 1 describing how we get colds and flu and part 2 dealing with prevention and cure. This is excellent information which will help many people."
- Carole A., London
My friends and coworkers would always wonder why they never saw me sick. Or why I never take sick days.
Countless cold and flu infections would spread through our labs and offices, knocking down anyone that got in that germy path. Except me.
Rumors started circulating about me being super human (okay, not really, but that would have been cool :). Still, people wanted to know my secret.
That is how this ebook came about.
This natural cold and flu remedy ebook details:
what exactly it is that makes you sick
why and how you get sick
how your body fights off these germs
how to strengthen your immunity naturally to get better fast
how to prevent future infections
This ebook is a just a little bit technical at times, but I've done my best to make a complicated subject easy to understand.
I have written it in the same tone as this site, so if you understand the articles on my site, you'll have no problem understanding the technical parts of my ebook.
Please note though that the natural cold and flu remedy itself is very easy and straightforward.
It details how to use two specific, inexpensive nutrients in the proper dosages and timing for:
cold and flu recovery that is FAST
future cold and flu prevention
And you can also customize it to according to your specific health needs. This is important, as we are all different in our nutrient needs.
"I thought your information was very clearly and painstakingly presented. It looks like people have learned a whole lot about the immune system since I took human physiology eons ago!
It's terrible that recommendations for these two nutrients are so low. Everything appears to be rooted in companies putting money ahead of people - it's a disease in itself IMHO.
I'm glad you added references, because that was the first thing the skeptic in me wanted to know regarding the research."
-Johanna S., Nevada
I truly believe that knowledge is power. I don't like it when someone says that I should just take their word for something. I want to know the "whys" behind what they are saying.
Understanding how the immune system works to battle cold and flu germs will give you confidence in the remedy I present to you. It will also help you look at any other natural cold and flu remedy with a more informed eye.
The statements I make are backed up with many references that you can check out for more information.
It will show you why washing your hands constantly isn't necessary (beyond simple hygiene, mind you). Same thing for all those hand sanitizers. And the same for those flu shots. Forget them – don't waste your money.
Once you know how to naturally strengthen your immune system against these kinds of illnesses, you won't need all those "band-aid" fixes. And you can feel good knowing that this remedy is perfectly safe for adults as well as children.
You'll feel better because you are actually getting better, not because you are simply masking symptoms.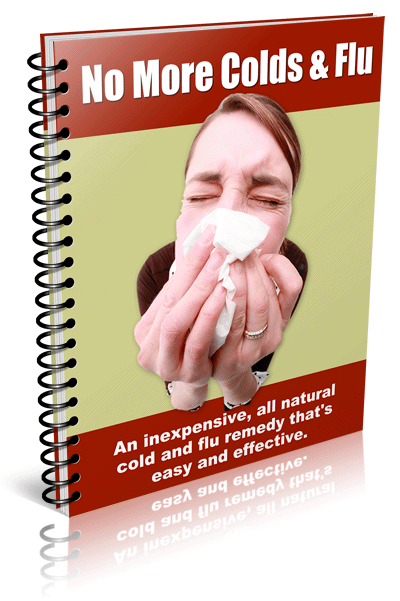 No More Colds & Flu eBook
Price: $12.00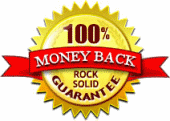 I'm confident that you will love this ebook. However, to make it no-risk for you, I'm offering a 60-day money-back guarantee for anyone not satisfied with the product. Also, you will receive the ebook instantly upon purchase.
You can pay with PayPal or any major credit card. If you prefer to pay by check, contact me at the link just below and select website comments or questions.
Feel free to contact me with any questions before or after purchase.
Wishing you the best of health!
---
Health and Wellness Home
-
Natural Cold and Flu Remedy
---