Which of these Common Foods have the Highest Pesticide Residue?
Learning which foods have the highest and lowest levels of pesticide residue will make it easier to decide on grocery purchases.
So if you can't afford all organic, don't despair!
If the foods high on the list are family favorites, buy these organic.
If you're looking to save money, choose conventional foods near the bottom of the list.
And if you haven't already, read about the dangers of pesticides found on your food.
Following these tips will provide an economical way to reduce your pesticide exposure and boost immune system health.
The following list is a compilation of almost 43,000 tests for pesticide residue on common fruits and vegetables. The data was collected by the U.S. Food and Drug Administration and the U.S. Department of Agriculture between 2000 and 2005.
Environmental Working Group (EWG), a not-for-profit organization, compiled the results to determine the highest and lowest amounts of pesticides in food.
It is important to note that the produce was washed prior to testing, to mimic actual levels that consumers would be ingesting.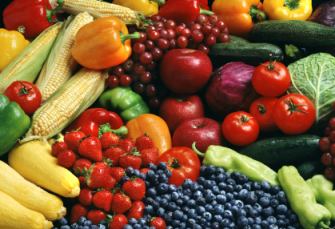 44 different fruits and vegetables were tested
Pesticide load (the combined score) was determined by factoring in the following categories:
Percentage of samples tested with detectable pesticides
Percentage of samples with two or more pesticides
Average number of pesticides found on a sample
Average amount of all pesticides found (in parts per million)
Maximum number of pesticides found on a single sample
Number of pesticides found on the commodity in total
All the data from each category was combined to determine a number from 1-100 that represented pesticide load. 100 represents food with the most pesticide residue, and 1 represents the food with the least pesticide residue.
The study determined that consumers can reduce their pesticide exposure by almost 90% by simply avoiding the top 12 pesticide-laden foods and instead choosing those foods with the lowest amounts of pesticides.
Okay, now that all that is explained, here are the results.
RANK

1 (worst)

2

3

4

5

6

7

8

9

10

11

12

13

14

15

16

17

18

19

20

21

22

23

37

25

26

27

28

29

30

31

32

33

34

35

36

37

38

39

40

41

42

43

44

45 (best)

FRUIT OR VEGGIE

Peaches

Apples

Sweet Bell Peppers

Celery

Nectarines

Strawberries

Cherries

Lettuce

Grapes - Imported

Pears

Spinach

Potatoes

Carrots

Green Beans

Hot Peppers

Cucumbers

Raspberries

Plums

Oranges

Grapes-Domestic

Cauliflower

Tangerine

Mushrooms

Cantaloupe

Lemon

Honeydew Melon

Grapefruit

Winter Squash

Tomatoes

Sweet Potatoes

Watermelon

Blueberries

Papaya

Eggplant

Broccoli

Cabbage

Bananas

Kiwi

Asparagus

Sweet Peas-Frozen

Mango

Pineapples

Sweet Corn-Frozen

Avocado

Onions

SCORE

100 (highest pesticide load)

96

86

85

84

83

75

69

68

65

60

58

57

55

53

52

47

46

46

46

39

38

24

34

31

31

31

31

30

30

25

24

21

19

18

17

16

14

11

11

9

7

2

1

1 (lowest pesticide load)
Environmental Working Group / CC BY-NC-ND 3.0
---
Health and Wellness Home -
Healthy Food Tips
-
Pesticide Residue
---
Return to Healthy Food Tips from Pesticide Residue
Go to Boost Immune System Home Page