Rosemary Pure Essential Oil

Rosemary pure essential oil, rosmarinus officinalis, or The Herb of Remembrance has been used for centuries in the sickroom because of its strong antiseptic qualities. But, this very versatile essential oil has so many other vital uses in the modern world that warrant an inclusion in the Ten (10) Best Essential Oils.
Rosemary Details:

Benefits
Rosemary pure essential oil is a stimulant, both physically and mentally, so it is excellent for refreshing the mind and body. The use of essential oils such as Rosemary for therapeutic benefit are often criticized as unsupported by scientific evidence. A recent study by Prof Mark Moss at Northumbria University has found conducted experiments showing profound effects of Rosemary for the mental acuity such as memory. Tulleken, Chris Van. "What does rosemary do to your brain?" BBC News. BBC, 15 July 2015. Web. 28 Jan. 2017.
Use Rosemary oil for stimulating the muscular system and easing tension in tight muscles in the back and legs, cramps, gout.  It is useful in the circulatory system to stimulate blood and lymph flow which will help with varicose veins, fluid retention, osteoporosis, arthritis, Oedema, low blood pressure.
The herb Rosemary is excellent as a tonic, mainly for the liver and gall bladder and used in a massage blend can be beneficial for the digestive system.  Use for flatulence, constipation, colitis.

It has always been used as a fumigant, particularly in the sickroom.  

It is also an insect repellent.

This essential oil is useful in preventing dandruff and hair loss.

This decongestant pure essential oil is wonderful in any topical or inhalant application for all the flu type symptoms. Use it for colds, flu, bronchitis, asthma, sinusitis. 

Rosemary is a stimulating essential oil so it is helpful for relieving fatigue, headaches, lethargy, exhaustion, and a tired mind.  Place some drops in a burner or relax in a bath.  Great to use before an exam to help focus and enhance memory.

Volatility

Top note
Ruling Planet

Sun
Principle

Yang
Scent

Woody, sharp, penetrating.
Properties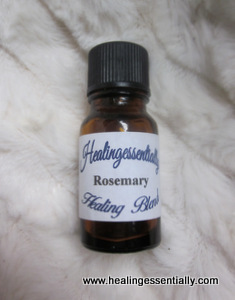 Analgesic
Antimicrobial
Antirheumatic
Antiseptic
Antispasmodic
Aphrodisiac
Astringent
Decongestant
Digestive
Diuretic
Fungicidal
Hypertensive
Nervine
Stimulant
Tonic
Source
Flowering parts via distillation
Plant

Shrubby evergreen bush to 2m in height.  Silvery green spiky leaves.  Pale blue flowers.
Highly aromatic plant.
Characteristics

Colorless or pale yellow liquid.  Strong, minty, woody herbaceous scent.
Blends with:
Basil
Bergamot
Citronella
Cedarwood
Lavender
Pine
Peppermint
Thyme
Constituents

Pinenes, camphene, limonene, cineol, linalol, terpineol, octanone
Uses

Acne

Arthritis

Asthma

Chilblains

Cramps

Dandruff

Dyspepsia

Flu

Fumigant

Infections

Lethargy
Cautions
Not to be used in pregnancy or if you suffer from Epilepsy.