Clothes - Protecting Them and Keeping Them Sweet Smelling

Using essential oils for clothes care is one of the nicest ways to use essential oils.  What we wear is important for our self image, how we project ourselves to the outside world.  They are also the closest thing to our skins on a daily basis.  So how they smell and how they interact with our bodies is important for both our self esteem and our health.
Using a natural product like essential oils will enhance both these concepts.
Drawer Liners To Make Our Clothes Smell Nice

The use of essential oils in making these liners is easy and much better for than their chemically infused commercial cousins.
Ingredients:
Absorbent paper like blotting paper
Essential oils of choice
Directions:

Cut the paper to the size required.  Dot the essential oils over the paper.  Fix it by brushing over some orris root powder. 

Shake off the excess.  Then put the liner in your drawer.

Some suggestions for the essential oils:  sweet smelling, like Rose Geranium, for the underwear. Grapefruit for daywear,  Chamomile for nightwear.

Moth Repellent To Protect Our Clothes

Using essential oils to repel moths is a must. There is nothing worse than pulling your favorite jumper out of the cupboard only to find it full of holes.  
Happened to you yet?  It's happened to me...
To protect your clothes against moths put some drops of essential oils onto cotton wool balls or tissues and place inside your drawers or hang in small bags in the wardrobe.
The best oils for this are:
Lavender essential oil
Camphor essential oil
Lemongrass essential oil 
Rosemary essential oil
Recipe One

Ingredients:
2 drops of Lavender essential oil
2 drops Rosemary essential oil
1 drop Clove essential oil
1 drop Patchouli essential oil
2 drops Lemon essential oil
Directions:

Mix some or all of the above essential oils into a small blue or amber bottle.  Use a few drops of the mixture onto a damp cloth and wipe over your clothes drawers/shelves.

Recipe Two

Ingredients:
25g Tansy essential oil
25g Rosemary essential oil
25g Wormwood essential oil
15g crushed Cloves
2 tablespoons orrisroot powder
Directions:

Mix all ingredients thoroughly and put into a plastic bag, sealing tightly and leaving it for 6 weeks to cure in a dark place.  Give the mixture a good shake every couple of days.  

Make up some small sachets and put some of the mixture in.  Leave in your drawers or hang from the wardrobe shelves.

Wash your hands thoroughly after touching this mixture.

| | |
| --- | --- |
| Put some of your favorite essential oils onto a damp face cloth and toss into the dryer. | Moth Repellent essential oils are Lavender, Rosemary, Wormwood, Tansy, Patchouli |
Shoes
Smelly Shoes

Essential oils in shoes is useful if you are a gym junkie or have kids who play lots of sports.
Smelly shoes are a constant problem in most homes, particularly gym shoes, so a handy smell buster would be a necessity.
Recipe One

Ingredients:
Teaspoon of Bicarbonate of Soda 
3 drops of Lavender
2 drops of Lemon
5 drops of Rosemary
Directions:

Mix and dust inside the shoes.  Remember to shake out before use.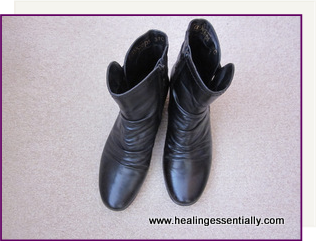 Recipe Two

Ingredients:
1 Teaspoon of Bicarbonate of Soda
3 drops of Lavender
2 drops of Tea Tree
2 drops of Peppermint
Directions:

Pack this into an old cut up pantyhose or old sock and stuff this into the smelly shoes.  Leave it overnight and remove. 

You may need to refresh the oils regularly.

Shoe Polish

Ingredients:
50g grated white soap
1 litre turpentine
1 litre boiling water
150g beeswax
50g vaseline
2 drops Eucalyptus essential oil
Directions:

Place soap and turpentine in a bowl and leave to steep 24 hours.  Blend with the boiling water to dissolve the soap.

Melt the beeswax and vaseline together in a bain marie until liquid.  Remove from heat, add the soap mixture and stir until cool.  Store in a glass jar.

Perfumed Pillows

Although not strictly clothes care these pillows are a joy to use and I thought I would include them here.
Ingredients:

Square of material
Herbs of choice
Essential oils of choice
Directions:

Make up a pillow or sachet with material cut to the size of the pillow you want and leave one side open. Into this open square stuff the dried herbs of choice, sprinkled with essential oils. Sew up the opening and use for both night time sleeping and day use.

Suggestions for the essential oils:

For the night time pillow the essential oils to use are Lavender, Valerian, Marjoram and Chamomile.

For the day time sachet or pillow the essential oils to use are of your choice, depending on the room and whether it is to calm or stimulate the senses. 

For a meditation room you could use Frankincense, Clary Sage or Jasmine in the bedroom for those intimate times between couples, in the office use Pine to promote clear thinking, Chamomile in the dining room or lounge room as it encourages communication.

It is easy to refresh the pillows by either adding more drops to the outside material or snipping a corner of the material and dropping some oils onto the inner stuffing.

Ironing Our Clothes

To impart a lovely aroma before wearing or when hanging in the wardrobe you can use essential oils when you do the ironing.

Ingredients:

Fresh Scent:

Floral Scent:

Romantic: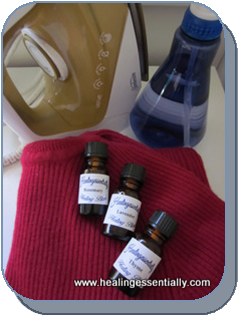 Directions:

Add one drop of these essential oils to a spray bottle or mister and spray the clothes as you iron.

Or you can put a drop on a damp cloth and place that on the clothes to be ironed and iron it. The smell will transfer from the damp cloth to the clothes.