Geranium Pure Essential Oil

Geranium pure essential oil, pelargonium graveolens, is considered a general all-rounder essential oil with multiple applications and a delightful aroma.
Geranium Details:

Benefits

Because of its cell regenerating and hormone balancing abilities it is excellent used for all skin types: moisturizing dry skin, maintaining the balance of normal skin and adjusting oily skin. 
These attributes will be helpful in skin conditions as well eg acne, wrinkles, and eczema. Used in skin care products it can give a lovely glow to the skin, refreshing in a cologne or face splash and revitalizing for tired skin.
One of the key properties is that ability to balance hormones so it can be very effective for  all those difficult times for ladies: teenage years, heavy periods, premenstrual syndrome and menopausal symptoms.
Geranium pure essential oil is an excellent aid in reducing chilblains, it is an excellent component in the treatment of endometriosis, a tonic for the liver, aids in stimulating blood circulation, improves the flow of lymph and is a good treatment for herpes, shingles, burns, hemorrhoids.

You can use it as an insect repellent.

This essential oil is a detoxifer, reduces fluid retention, helps with cellulite.

With its anti-fungal properties use it as a topical application for ringworm and other viral or fungal infections of the skin.

It is helpful with the rashes in childhood measles.

The scent is wonderful for those times when we are a little sad or depressed, needing a lift. Use it in a burner to settle the mind, ease the spirit, nurture your soul.  Put a couple of drops in a warm bath when you are feeling agitated or stressed and it will calm the nerves.

Volatility
Middle note
Principle
Yin

Ruling Planet

Venus

Scent
Sweet, minty scent.  Refreshing. Relaxing
Properties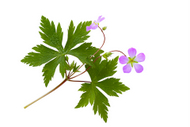 Antibacterial
Antidepressant
Anti-inflammatory
Antiseptic
Astringent
Deodorant
Diuretic
Fungicidal
Sedative
Stimulant
Tonic
Vermifuge
Source
Leaves, stalks and flowers via distillation
Plant
Perennial shrub, growing to 1m in height. Pointed leaves, serrated at the edges.  Small pink flower. Aromatic bush.
Characteristics
Greenish olive liquid.  
Blends with:

Bergamot
Clove
Jasmine
Juniper
Patchouli
Lavender
Rose
Sandalwood
Constituents

Citronellol, geraniol, linalol, menthone, sabinene, limonene
Uses
Bruises

Burns & cuts

Calming

Chilblains

Fungal Infection


Hay fever
Insect repellent

Liver Tonic


Neuralgia

Oedema

Ringworm

Sciatica

Sedative

Throat infections