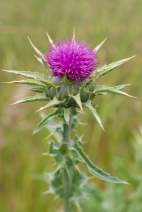 I'm talking about the milk thistle herb.
Milk thistle has been researched thoroughly and time and time again it proves to be a powerhouse for protecting, as well as rejuvenating, the liver.
How? This herb is a powerful antioxidant. It protects the liver and other organs against free radicals that can lead to damage and disease.
Milk thistle also protects our liver form the damaging effects of prescription medications and over-the-counter drugs.
This herb also enhances the liver's ability to regenerate itself.
So how much should you take? It depends on the individual, but the good news is that even very high doses are safe. Generally about 300 mg split up over the course of a day is recommended.
Look for a product that contains a high percentage of silymarin, a powerful compound from the ripened fruit of the herb.
What else will naturally cleanse the liver?
Wheatgrass juice is excellent. As is juices from carrots, apples, lemons, and grapefruits. Parsley, spinach, dandelion, and beets and also effective.
And don't forget the everyday changes you can make to detoxify the liver:
All of these steps can help keep our livers in tip top shape. And that ensures good health and a strong immune system - which always go hand in hand.
More about the liver - liver cleanse benefits, liver functions, sluggish liver symptoms
More about natural body detox:
Skin Detox | Lung Cleanse | Kidney Cleanse
Liver Detox | Natural Colon Cleansing